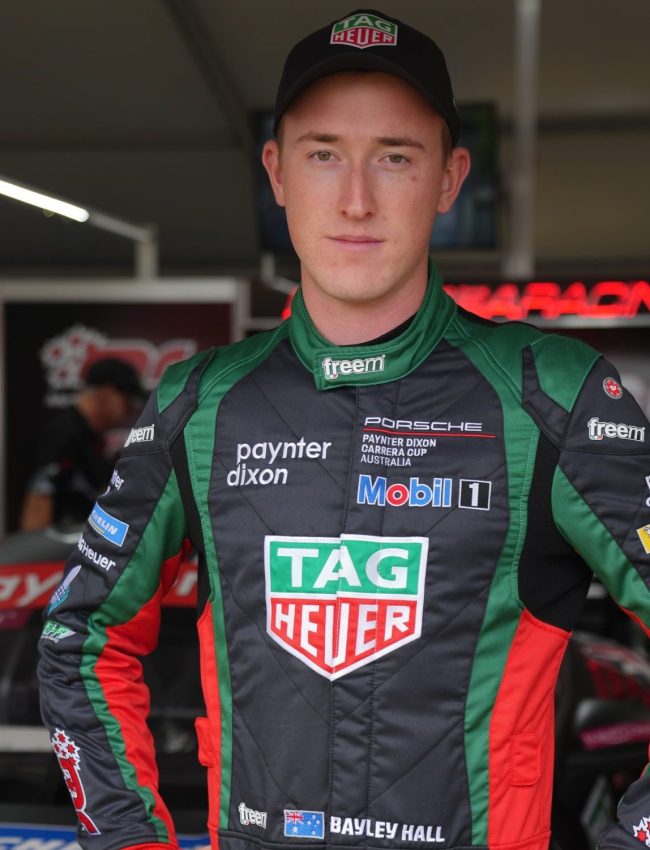 Date of birth: 28th, July, 2003
Birthplace: Gold Coast, QLD
Lives: Gold Coast, QLD
Height: 190cm
Nickname: Bay
Current Studies: Master Degree of Financial Planning
Aspirations: Compete at the highest level in Porsche Motorsport in World Endurance Championship (WEC), Win the Bathurst 12 Hour, Compete in the LeMans 24 Hour.
Interests: Racing, Mountain Biking, Rugby, Boating and on the Jet-ski.
First Car: Hyundai Excel
Idol Racing drivers: 

 Daniel Ricciardo, 

Scott Mclaughlin, 

Jamie Whincup, 
Current Racing Series: Porsche Paynter Dixon Carrera Cup Championship
Bayley Hall Racing team first hit the racing track at Archerfield raceway way back in April 2010 when Bayley was only 6 years old.  After 6 years in karting and plenty of trophy's, Bayley ventured into his next progressive step of racing by beginning to race in full-sized cars. Starting from the bottom and learning the basics in grassroots racing such as the Hyundai Excel and Queensland Touring Car Championships to build his skill as a young teenager. By the age of 15, Bayley began racing in a Marc I Ford Focus for a year which taught him many lessons, but also enabled Bayley to expose himself to new tracks across the country to build up more and more experience before rising the ranks. He has always been thrown in the deep end to learn and perform at the same time and he continue to prove this today. After experiencing the Bathurst 12-Hour as the youngest driver ever to finish on the podium, Bayley developed an opportunity to enter into the 2021 Porsche Michelin Sprint Challenge Championship with McElrea Racing.
He competed in 2 rounds at Phillip Island and Sydney Motorsport Park finishing in the top 4 at both rounds and then COVID restrictions tightened and shut the racing down. He then bit the bullet and made his move to the Porsche Carrera Cup Championship intime for the entrance of the latest and greatest 992 Cup Car era. 2022 was his first full Porsche campaign and through some hard work top-ten results were achieved when the category was recorded as the most competitive ever whilst Bayley had to learn 4 brand new tracks and a new competition.
2023 has been a triumphant year with consistent top-ten qualifying and finishing well within the points. Racing at certain tracks for the second time has been a noticeable aid for Bayley's second campaign and it is combined with new improvements in his driving style and mature ability to handle himself under pressure. After Round 6 he currently sits 6th in the Championship which is a 14 place improvement on last year. This year has also included an exciting opportunity to race in the Porsche Deluxe North American Carrera Cup Championship at Laguna Seca and COTA F1 Grand Prix. This valuable seat time and absolute challenge to adapt to a new track, new competition and slightly different 992 cup car with ABS has been a great opportunity for Bayley to showcase his talent internationally and improve himself.
Bayley is a mature, passionate and enthusiastic young driver who has a lot of respect for racing and big dreams for his future.  Bayley has been a motor fan since before he could even finish his first sentence as a 2 year old, while most of his friends were watching cartoons he was watching the V8 Supercars on replay.  Bayley is working hard to continue rising up the Porsche Motorsport Pyramid.
You only have to spend 2 minutes in Bayley's presence to be encompassed in his passion for racing and how grateful he is for every opportunity that he has been given to live his dream.
His biggest gratitude for his sponsors:
HFI (Hall Finance & Insurance Solutions)
Caltex with Techron
Couper Constructions
TAG Heuer
GaP Solutions
Excavation Equipment
Click on the Gallery or Sponsors tab in the top right of the page to get more details on each sponsor and their websites.
How do you get involved in SPONSORSHIP? Visit the Contact section on the menu and type in your passion for motorsport and your details to start your connection with Bayley Hall Racing
Bayley Hall Racing Vehicles