Indigenous Livery for Darwin Rd 3 Carrera Cup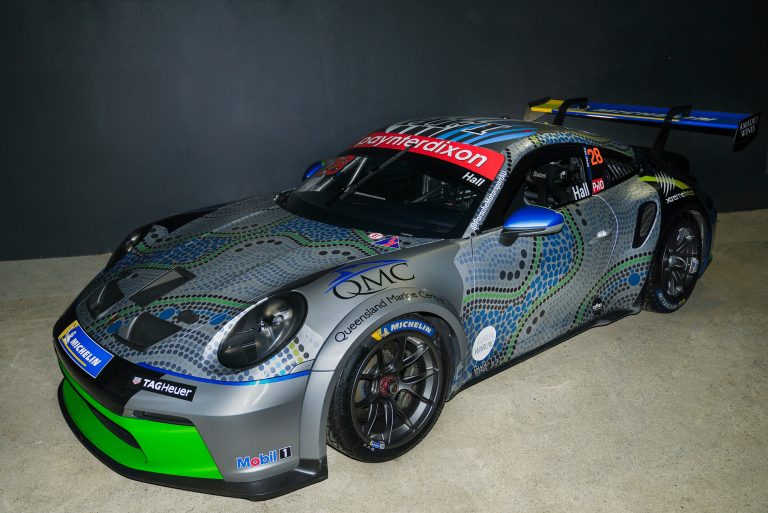 Bayley Hall joins Supercars Indigenous initiative by revealing new Livery for upcoming Darwin Round.
Famous Indigenous Artist Kurun Warun supports Young Carrera Cup driver.
18-year-old Porsche Paynter Dixon Michelin Junior rising star, Bayley Hall, has excitedly collaborated with one of Australia's most celebrated Aboriginal Artists, Kurun Warun for the Indigenous initiative in the first ever official Supercars Indigenous Round this weekend at the Merlin Darwin Triple Crown Round Event. Bayley shares this honour of Kurun's work with some very famous names such as Michael Schumacher, Oprah Winfrey and Pierce Brosnan who are all collectors of Kurun's artwork.
Darwin will be yet another new track for Hall to learn and adapt quickly to this weekend, but he's excited for the challenge and the experience as he finds his feet in the new Porsche 992 GT3 Cup Car and this new series.  This will be Bayley's 5th ever round in a Porsche category after Covid disrupted the 2021 Michelin Sprint Challenge Series.
 "Quotes:
Bayley Hall: "'We are yet to secure a naming right sponsor for the 2022 season, so I wanted to help make a difference by donating my prime car real estate for this initiative and give Kurun a platform to showcase his incredible designs, while showing respect for the local Indigenous people of Darwin. I'm so appreciative to Kurun for getting behind me and giving me this privilege of using his design" says Bayley
Andy McElrea, Founder & Team Principal, McElrea Racing: "Even though Bayley may be have the least amount of experience in the field, he's certainly moving forward in leaps and bounds with how fast he can adapt, with excellent race pace and craft, we are extremely happy with his progress", said Team Owner Andy McElrea from MR (McElrea Racing).
Bayley would like to thank his valued sponsors: Xtreme Freight, HFI, Queensland Marine Centre and Squadra Bespoke.
Please click on the following link to see Hall's livery launch video: