Porsche Carrera Cup at the Formula 1 Grand Prix
Melbourne certainly knows how to put on a show. 
With 410,000+ people attending the weekend, it's not only the biggest crowd I've ever raced in front of, by far, but also the largest sporting event in Australia's history. It's refreshing to see how many people's faith has been restored thanks to solving our Covid situation and getting this great race weekend back on the calendar.
It was very surreal for me as I've been going to the Grand Prix since I was 6 years old and seen the progression to the hybrid era and always been the happiest kid in pitlane visiting the supercars paddock. Last weekend I got to live and breath it myself. And what a rush that is. I jumped on the other side of the fence this week, instead of usually asking for photos and signatures, I had young fans come up to me asking for photos and signatures.
It was a great experience for me considering after each session I was on track the Formula One cars would then be on track so I would quickly run to the viewing areas to watch the worlds fastest cars race around the same track I was on moments ago.
It was a daunting and hair raising track that now had no margin for error and high risk for the new speeds we were hitting. With an average lap speed around 160-170 kph and top speed of 265kph, there was no reward for exceeding the limit.
I got to have my first taste in the 20 minute practice which was great to understand the track and get prepared for qualifying, which I qualified 14th. Not exactly where I expected to be but then I had my sights set on making positions throughout the weekend and learn from every driver and every lap ahead of me.
The race starts were good from me but just had no where to go as Turn 1 quickly filtered 4 cars wide into to 2. There was carnage and little room to move and it costs me a few positions in race 1 finishing the race in 16th. It certainly was a relief to get my first Carrera Cup race under my belt.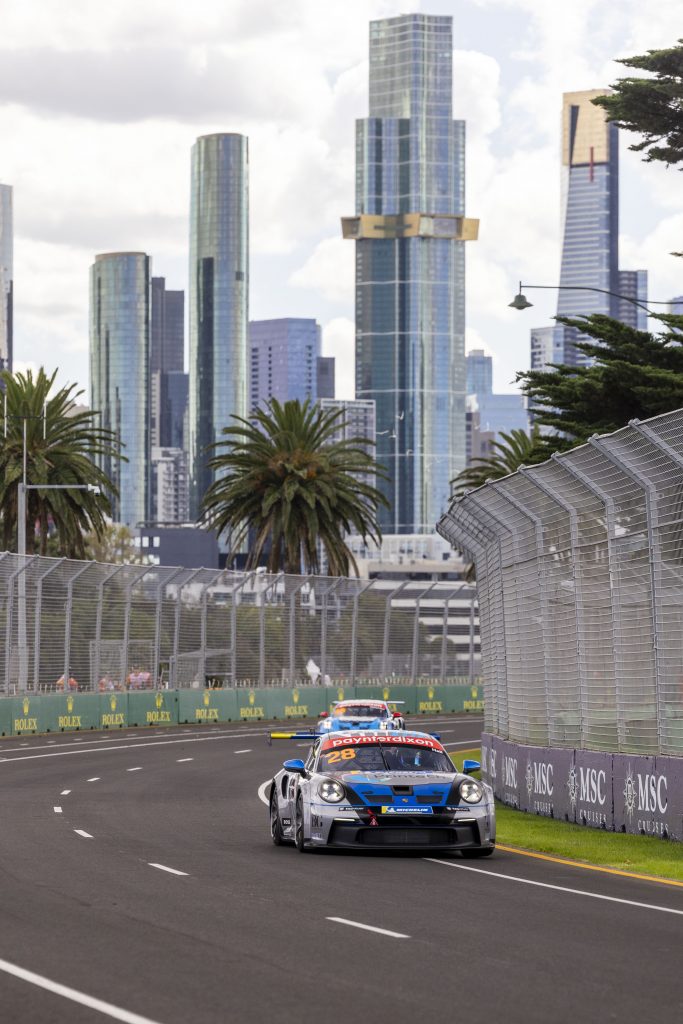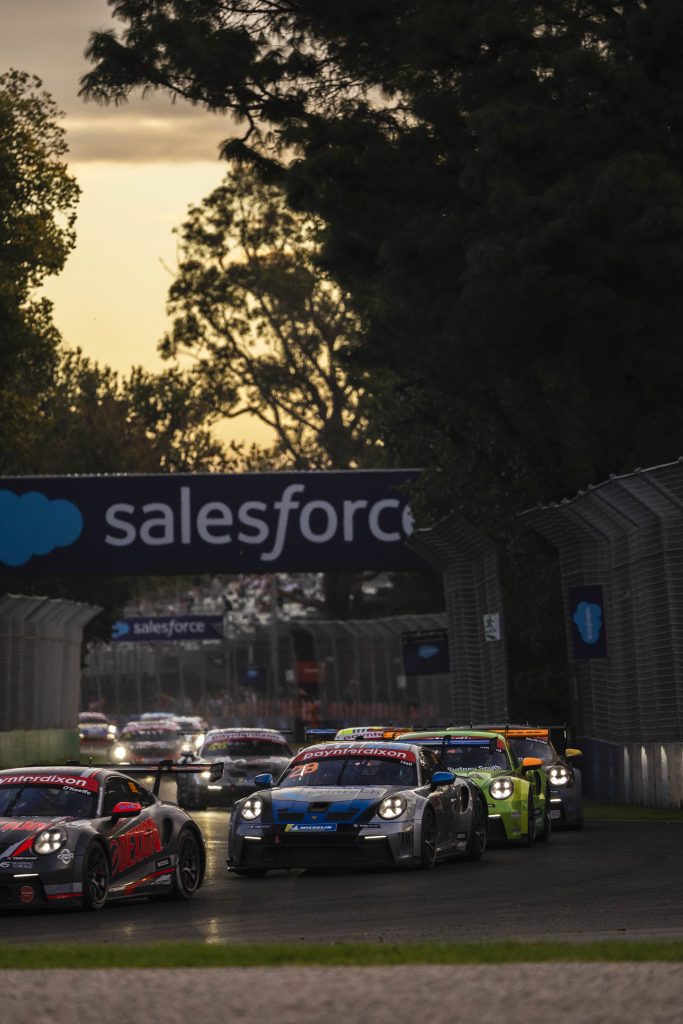 Then before you know it, I was in tune with what I had to do and I began maximising the car for each race. I moved three spaces up each in race 2 and 3 to progress the top ten.
It's a major positive to keep moving through this field as each driver has more experience in Porsches and cars in general compared to me so I learnt from there car positioning and lap speeds.
Race 4 I was getting more competitive and was attempting a move which was opportunisitc and didn't pull off unfortunately breaking my steering arm and having to retire the car. There was so much to learn from how this championship runs and the drivers in it and how I am going to come back stronger for the next round in Winton on the 20th of May.
I have to say to my major sponsor for the weekend, Printech and TBG, Tom Barker Group, these two saw potential in me to represent their brand and I can't thank them enough for helping support me to compete this weekend. They made the weekend even more unforgettable as I had someone to fight for. The team at Printech and The Penthouse were so accommodating and professional it was an amazing experience and I can't wait to do it all again.
In the championship we are sitting 17th Outright and 7th in the Michelin Junior Program. Thats more where this came from thats for sure, 7 rounds to go. For the latest photos from the round, head to my Gallery page and also please head to my Sponsors page, check out their websites and make sure if you need their services give them a call.
Until next time, thanks for reading.
B Hall