Sandown marks first Porsche Podium
YESSSSS! Finally I got my first podium under my belt. It has been brewing each weekend as I begin racing at tracks for the 2nd year and I could not be prouder of myself after all the blood, sweat and tears poured into this career.
There are always ups and downs but it feels great to have so many ups this year after many down turns in previous years. From the start the car was fast and I was driving well off the back of a 2-day test in the United States at Circuit of the America. We found a nice setup and qualified 4th. The story of the weekend was that passing was difficult and the starts were the major advantage that I created for myself. Finishing the first race in 2nd, race two in 3rd and final race in 2nd pushing for the win all race long after a cracking start.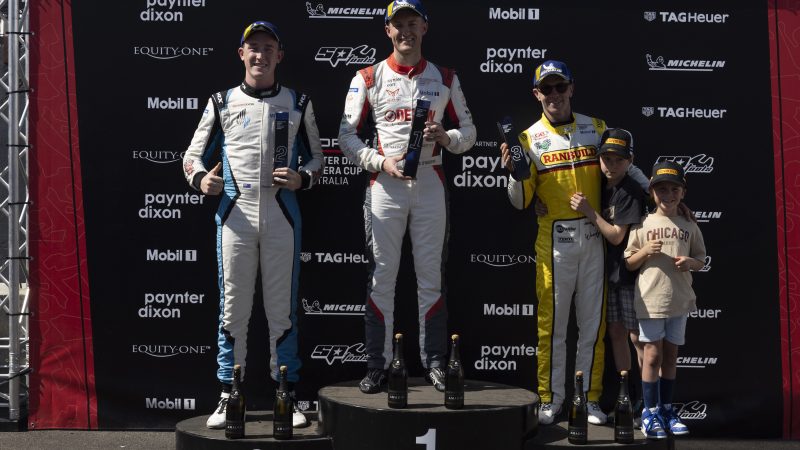 This weekend taught me how to make it look easy as starting and staying up the front of the field makes life that much easier and to be completely honest, more boring. As all you need to worry about it the gap to the car behind and managing the tyres to be strong towards the end. And it was a great opportunity to learn these skills over the weekend for when I continue racing in the top-3.
And as always there is room for improvement. It was great to solidify this result and learn from the minor mistakes, it is also eye-opening to myself when I think about what I can do next time I'm in this position and find the pace I need to get up 1 more step to be the best on the day. 1 more step, that's all it takes.
Sandown was a dream come but was only the tip of the iceberg in what I will achieve in the near future and it was great to taste the Amadio Champagne. After years of hard work, it is beginning to pay off and I'm looking to work even harder to make more of these moments happen in the near future.
Thank you very much to my supporters HFI, Couper Constructions, GAP Solutions and Excavation Equipment and McElrea Racing for helping me on this journey and keeping my wheels turning.